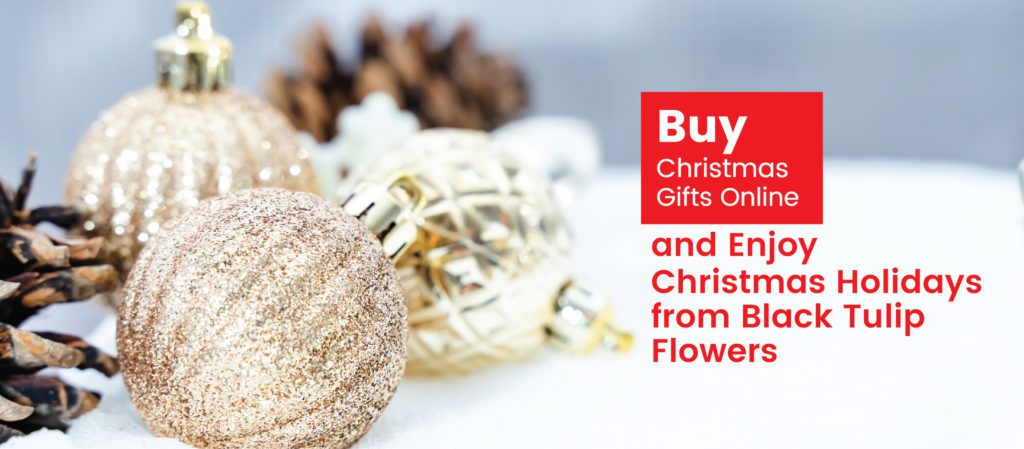 The Holiday season is approaching! Christmas vibes are on! It's time to jazz up the day and exchange gifts with your loved ones! If you're looking for something unique and thoughtful, consider giving the gift of flowers.
At Black Tulip Flowers, we have a wide selection of beautiful Christmas floral arrangements that will bring joy and cheer to anyone on your list. Our online store makes it easy to browse and purchase Christmas gifts from the comfort of your home so that you can send them to anyone in India with just a few clicks.
Send Christmas Gifts Online to your beloved ones!
One of the great things about giving flowers as a gift is that they can be enjoyed for days or even weeks, making them a lasting and memorable present. With our reliable flower delivery service, you can have your Christmas gifts delivered right to the doorstep of your loved ones!
Festival season is the perfect time to show someone special that you care. Flowers make meaningful and thoughtful gifts and are forever favourites of people of all ages. Black tulip flowers, India, offers a wide range of beautiful Christmas flower gifts that will bring a smile to the lucky recipient. From bright and cheerful bouquets to festive holiday centerpieces, the choice is vast, and there is something to suit all tastes.
You have various gift options available, but how to find the best online Christmas gifts? Here are some ideas for picking the perfect floral gifts for your loved ones!
Consider their style and choose the best flowers:
If you know the recipient well, consider their style and preferences when selecting a floral arrangement. Do they prefer bold and colourful flowers or more subtle and delicate arrangements? We have it all! Our flower gifts are splashy and attractive to gift to your beloved ones.
Choose seasonal flowers to delight your loved ones:
Many festive flowers are perfect for gift-giving during the holiday season. Bring a touch of holiday cheer with our seasonal flowers and best online Christmas gifts.
Add a personal touch with a special note:
Consider adding a personal touch to your gift by including a handwritten note or choosing flowers in a colour that has special meaning to your loved one.
Remember the presentation:
When it comes to gift-giving, it is often just as important as the gift itself. Choose a beautiful vase for your flower gifts from our extraordinary collection and add a decorative touch to make the extra gift special!
Our Flower delivery in India makes your Christmas celebrations fantabulous!
You can choose any flowers available in the market; the important thing is that you're showing your loved ones how much you care. So why wait? Start browsing our selection of Christmas flower gifts today and find the perfect gift for your loved ones. With Black Tulip Flowers, it's easy to buy Christmas gifts online and deliver them to your beloved one's place. Surprise and delight your loved ones with a beautiful and thoughtful gift this holiday season.
Whether you choose a flower gift for your loved one or want to add decor to your home, Black Tulip flowers have a wide selection of flowers to make the festive season memorable. Each gift of fresh blooms and foliage suits individual needs, from adding a special message to delivering a personal note. So, to make your Christmas memorable and show you care, why not treat your loved one to one of the beautiful Christmas flower gifts available from Black Tulip Flowers? Order flower gifts from Black Tulip Flowers and cheer up your festival, creating memories to relish forever!