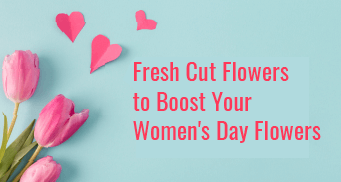 Women's Day
Everyone's life on earth revolves around a woman who may be a mother, wife, sister, or daughter.
March 8th is celebrated as International women's day globally. International Women's Day is declared a holiday in many countries around the world.
Make your special women feel your appreciation by sending International Women's Day fresh-cut flowers from Black Tulip Flowers.
Women's Day tradition
Let's join our hands together to appreciate the achievements of the women around us in their social, economic and political fields.
The tradition behind the Women's Day celebration is to appreciate the achievement of women in every field by sending flowers.
Flowers always boost the mood of anyone in any situation and especially women love flowers.
Send women's Day flowers online to India from Black Tulip Flowers to encourage and appreciate the achievement of the special women around you.
Women's day Theme
UN Women announces a campaign theme every year on International Women's Day and the theme for 2021's "Choose to challenge". Support the woman who always faces challenges in your community and appreciate them with fresh-cut flowers this International Women's Day.
The campaign for 2021 is "Women in leadership: Achieving an equal future in a COVID-19 world." The forerunners in the COVID 19 situation are of course women in the health field.
Show your respect and gratitude to the special women in your life by sending flowers on International Women's Day.
One should not stop by only sending flowers but also raise awareness on women's equality in any field.
Women's Day Flowers
Sending flowers on a woman's day may seem a little clinch, but the bloom of the flower bouquet makes every woman cherish the moment. Mimosa flower is the flower for International Women's Day.
Any flower is suitable for a gift, but the fresh cut flowers associated with International Women's Day are:
Send women's day flowers on this International Women's Day from Black Tulip Flowers the best online florist in India.
Splendour Pink Hand Bouquet – A surprisingly giant hand bouquet consisting of 50 stems of Pink Spray Roses is a perfect gift for the strong woman in your life
White and Pink Rose Bouquet – Keep spreading the love and affection by gifting these beautiful white and pink roses in a bouquet.
Yellow Tulips Hand bouquet – This 30 stem yellow tulip bouquet brightens your recipient's day.
Treasured Pink Lilies – this natural and fresh bunch of Pink Lilies wrapped with love and this hand bouquet consists of 10 Bunch of Pink Lilies.
Womanhood is to be appreciated all year long and not only on International Women's Day. Send the best fresh-cut flowers for the strong woman in your life from Black Tulip Flowers, the online flower shop in Bangalore.
Let's celebrate this woman's day all around the year by supporting our women in every aspect by giving them equal opportunity.
Visit us online to see our full product range and avail discounts for your online Flower Delivery Bangalore.