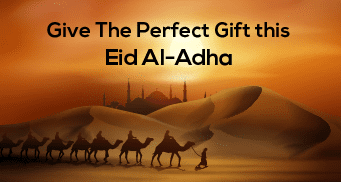 Do you give gifts on Eid?

Finding the greatest Eid gift ideas might become a hassle around the time of Eid because everyone has so much on their mind. The Muslim celebration has a rich tradition of gift-exchanging. Send your loved ones heartfelt and timeless gifts like flowers, which are always appreciated.

Eid Al-Adha

Eid-Al-Adha, also known as "The Feast of Sacrifice", is observed on the tenth day of Dhu-al-Hijjah, the last (twelth) month of the Islamic lunar calendar. Following the yearly Holy Pilgrimage of Hajj, which is a requirement for all Muslims who meet certain qualifications and is one of the significant Five Pillars of Islam, the celebration day depends on a valid moon sighting. The wonderful event delivers a period that is ideal for social gatherings and eating, filled with joy and gratitude. Giving Eid gifts for family is another way that people celebrate Eid. It's a means of communicating our concern for loved ones. Spend some time and give the best Eid gifts on this holiday honouring the individuals who mean the most to you and expressing thanks to your friends, family, and loved ones.



Best Eid Al-Adha Gifts

Giving something beautiful and unique gifts always makes someone feel happy inside and out! If you want to surprise your loved ones on Eid Al-Adha, send them a gift that may be customised. Give them a custom flower bouquet or arrangement and add colour to the celebration. You can always select a bouquet of flowers and chocolates as Eid gifts to truly express how much you care. This gift is filled with happiness and delightful that will make anybody feel warm and cherished.

Flower Bouquets: Flower bouquets are the best option if you're looking for Eid gift ideas to treat your loved ones this Eid. Some excellent choices for flowers include peonies, roses, tulips, lilies and carnations. Sending your loved ones, a flower bouquet would brighten their day and perhaps allow them to celebrate the event with excitement.
Orange Tulips in Bouquet
Admirable Hand Bouquet
Sweet Hand Bouquet
Fascinating Hand Bouquet

Arrangements: Give your loved ones something they can treasure forever to make your Eid even more special! You can order a unique and customised flower arrangement for your loved ones. Your loved ones will know how much you care for them when you give them these thoughtful and meaningful flowers for Eid Mubarak.
Exotic Flower Arrangement
Flower Arrangement with Vase
Long and Low Arrangement
Long and Low Arrangement – Fuschia Theme

Blooms in a Vase: Vases filled with flowers are more than simply attractive decorations. Aromatic flowers boost positivity in the environment with their vivid colours and pleasant scent. They enhance the visual elegance of any type of home design and are wonderful additions to any living space.
Elegant Lilies
Astounding Lilies
Pure White Tulips
Sunflowers in a Vase

Flowers in a Box: Flowers in a box are fantastic gifts for Eid occasion, and are ideal for when you're confused for what to get your dear one on occasion. They add elegance, beauty, make the area more peaceful and are guaranteed to be well-liked. They are great last-minute gifts choice as well.
Box of Red Roses
Box of Titanic Rose
Lovely Red Roses in a Box
Box of Hydrangeas

Fruit Basket: Whatever recipient you choose, a fruit basket is the ideal choice for Eid gift baskets. Sending fruit baskets is the perfect way to express love, respect, care and gratitude to elderly people. Treat your loved ones with unique gift treats this holiday season. Fruit baskets for Eid are sure to brighten everyone's mood.
Garden Fruits Arrangement
Luxury Fruits Arrangements
Eid Fruit Arrangement
Mix Fruits in a Basket
Conclusion: The joy of giving and receiving Eid gifts comes with the yearly celebration of Eid. Even though there are many different Eid gifts for friends, picking the ideal one for a loved one might be difficult. You must be considering the best way to wish your loved ones a happy Eid. Well, the Eid gift box suggestions listed above are the ideal way to welcome your loved ones on Eid and send them a variety of Eid gifts from Black Tulip Flowers.