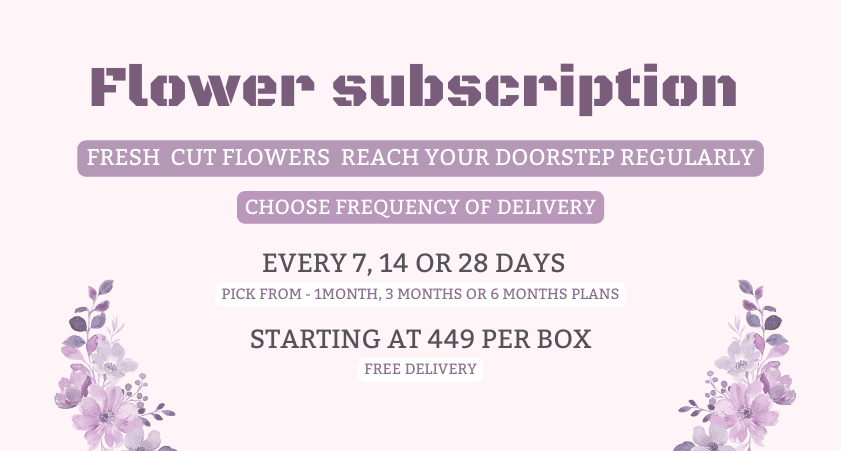 Flower Subscription Bangalore Call 6366381553
Flower Subscriptions bangalore by your florist Black Tulip flowers near By Unlock a World of Floral Elegance with Our Flower Subscription Service
Flowers have an uncanny ability to brighten our days, evoke emotions, and add a touch of natural beauty to any space. Imagine having this weekly flower subscription bangalore delightful experience regularly delivered to your doorstep. With our Flower Subscription Service, you can make this a reality. Explore the world of floral elegance and convenience as we delve into the enticing details of our subscription service.
Why Choose a Flower Subscription with Black tulip Flowers?
A Flower Subscription is like a recurring gift to yourself or a loved one, delivering joy of ferns and petals beauty regularly. It's not just about the occasional bouquet; it's a continuous reminder of nature's artistry. Here's why you should consider a flower subscription: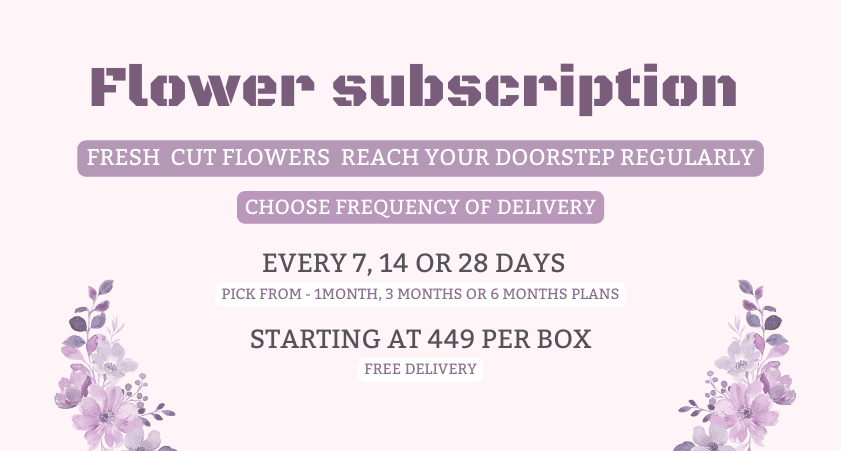 1. Freshness Guaranteed: Our flowers are sourced from the finest farmerr and growers, ensuring every delivery is a burst of freshness and fragrance. You'll enjoy blooms at their peak, enhancing your home or office with their vitality.
2. Hassle-Free Convenience: No need to rush to the florist or remember special occasions. Our subscription service takes care of it all, automating your floral needs. You set the frequency, and we'll handle the rest.
3. Personalized Selections: Tailor your subscription to your preferences. Whether you adore classic roses, exotic orchids, or seasonal blooms, we curate each arrangement with your tastes in mind.
4. Thoughtful Gifting: A flower subscription makes for an unforgettable gift. Surprise someone special with the gift of 1800 flowers and thoughtfulness.
5. Eco-Friendly: By choosing our Flower Subscription, you're reducing waste associated with single bouquets. Our commitment to sustainability means you're making an eco-conscious choice.
Subscription Options to Suit Your Lifestyle
We understand that everyone's floral needs are unique, which is why we offer flexible subscription options:
1. Weekly: For the ultimate in floral luxury and a constant source of inspiration.
2. Bi-Weekly: Ideal for those who want frequent floral refreshment without overwhelming their space.
3. Monthly: A popular choice for those who appreciate monthly surprises or have a more modest need for flowers.
4. Occasion-Based: Customize your subscription to align with birthdays, anniversaries, or other special events.
How It Works
Subscribing to our Flower Subscription Service is a breeze:
1. Select Your Subscription: Choose your preferred subscription plan based on your floral desires and delivery frequency.
2. Customize Your Selection: Tell us your flower preferences, colors, and any special requests. We'll create each arrangement with your unique style in mind.
3. Relax and Enjoy: Once subscribed, sit back and let the beauty of fresh flowers enrich your life. We'll ensure timely deliveries to your doorstep.
4. Modify or Cancel Anytime: Life can be unpredictable. You can easily modify your subscription or pause it if needed, giving you complete control.
Why Choose Us?
Our commitment to excellence sets us apart:
1. Expert Florists: Our team of skilled florists crafts each arrangement with precision and creativity, ensuring every bouquet is a work of art.
2. Quality Assurance: We stand by the quality of our flowers, offering a satisfaction guarantee. If you're not delighted, we'll make it right.
3. Major Cities Delivery: Our Flower Subscription Service is available across Bangalore, Mumbai and Delhi NCR so you can enjoy our blooms at your doorsteps.
4. Personalized Service: We're here to make your floral journey exceptional. Reach out to us for any special requests or assistance.
Subscribe Today and Elevate Your Everyday
Indulge in the beauty and wonder of fresh flowers regularly with our Flower Subscription Service. Elevate your daily life, surprise a loved one, or bring a touch of nature to your workspace. Subscribe today and experience the joy of flowers anew, every time.
Discover the art of continuous floral delight with Black Tulip Flower's Flower Subscription Service. Subscribe now to experience nature's beauty at your doorstep.