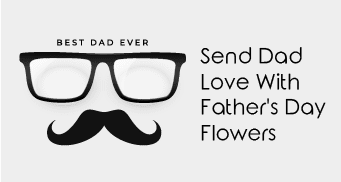 Send Dad love with father's day flowers
Father's Day is a celebration to show your gratitude to the father of the family, as well as fatherhood and the influence of fathers in the society. Father's day is celebrated on the third Sunday of June every year.
Black Tulip Flowers sends father's day gifts online in India.
What are you waiting for – order now your favorite flowers & Father's day flower delivery from Black Tulip Flowers, the best flower shop in Bangalore!
Father's Day Celebration
A woman by the name of Sonora Smart Dodd came up with the idea of honoring and celebrating her father while listening to a Mother's Day sermon at church in 1909. Her father, the Civil War veteran William Jackson Smart, was a single parent who raised his six children there. The first Father's Day was celebrated in Washington State on June 19, 1910.
Usually father's day is celebrated by paying a personal visit to the father if you are away from him. Since this global pandemic prevents us from traveling and paying personal visits, send father's day gifts online to India and celebrate the father's day safely!
Why Flowers Are Still The Best Gift for Father's Day?
Thinking of flowers gives you happiness with their beauty and fragrance. The thought of your father blooms your mind with the sweet memories you shared with him, the greatness of your father and the sacrifices of him. So, flowers are the best gift for father's day for a father softer than flower by heart.
What You Should Know About Gifting Flowers?
The site of flowers bring smile on anybody's face. Nobody receives flowers with grudge in their heart. Flowers bring smile instantly on the receiver's face and thus improves the relationship between the giver and the receiver. Obviously, flowers are the messengers of love and peace.
Researches prove that flowers have many positive effects on mankind.
Father's Day Flowers
Here are the best ideas to celebrate this special occasion with Black Tulip Flowers:
Love You Daddy
My Father My Hero
With Love to Dad
Love You Daddy
Fill every celebration of your Dad with lovable moments to cherish and enjoy with a gorgeous yellow roses in a bouquet.
This hand bouquet consists of 22-25 stems of Yellow Roses.
My Father My Hero
The heart of father is a masterpiece of human kind and here is masterpiece of nature wrapped with orange roses to make the moment of Father's Day more special.
This hand bouquet consists of 22-25 stems of Orange Rose.
With Love to Dad
This gorgeous bouquet with red, yellow, white and orange will be an ideal gift for your Father which can connect the emotions heart to heart.
This hand bouquet consists of 30 – 40 stems mix of red, yellow, white and orange Roses.
You can also customize these with any other gifts like baby girl balloons and Ferrero Rocher chocolates.
For more father's day flower arrangement ideas visit us online.
Visit us online to view our full product range and avail our daily deals and special offers.