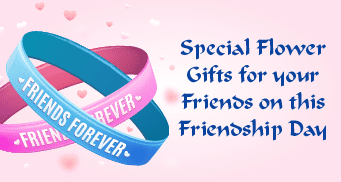 Friendship Day
International Friendship Day, also known as the World Day of Friendship, is celebrated every year on the first Sunday of August. Friendships come in several forms, through friendships we grow and expand our limits. Having a friend means you will have somebody to share your thoughts and emotions with. The true friendships can be motivating, inspiring or supporting, International Friendship Day is a chance to appreciate and recognize those true friends that make your life valuable. Celebrate this Friendship Day with the friends you have and the new friends you have yet to meet!
Nothing can change the warmth of true friendship and the feeling of being loved by a friend.
Types of Friendship Flowers
Each flower had its own special meaning and representation that was highly appreciated and adored. A beautiful way to express to your friend that you care about them and love them is by sending an arrangement or bouquet of flowers that precisely symbolize friendship.
Roses
Roses are the typical friendship flower, especially yellow roses and they symbolize friendship, joy, and new beginnings. Roses also symbolize confidence, delight and cheerfulness, so roses are a great choice when you choose a flower gift to give to your friends, so that your friendship will be stronger.
Hand Bouquet of White Roses
Hand Bouquet of charismatic Pink Roses
Luxury Spray Rose
Medley of Pink
Reach out to an old friend of yours and send a bouquet of fragrant roses on this Friendship Day and show that you care them and want to continue your friendship with them. Cherish your Friendship Day moments with your old friends by sending them Friendship Day flower gifts from our online portal Black Tulip Flowers Bangalore.
Tulips
Tulips are a pleasant way to symbolize your affection, care and good wishes for your special friend. It reminds us to be modest and humble and not to forget about the dear ones who need us the most. Sending an arrangement or a bouquet of tulips means that you share a deep friendship with the recipient.
Pure White Tulips
A bouquet of 100 Tulips
Abundant Yellow Tulips
Sunshine Yellow Tulips
Choose a variety of Tulip collections from our online portal Black Tulip Flowers Bangalore and send to your friends Friendship Day Flowers online.
Hydrangeas
Hydrangeas flowers symbolize deep understanding and gratitude, and it is a great symbol of people who trust each other and consider them good friends. If you are looking for a flower gift that shows the care that you have for your lasting friendship, then hydrangeas are the perfect flower gift on this Friendship Day.
Box of Hydrangeas
Beautiful Pink Hydrangeas
Box of Blue and White Hydrangeas
There's also plenty of choice when it comes to hydrangeas, a wonderful flower gift for your friend on this Friendship Day.
These flower gifts are eloquent touches for those who hold the importance of Friendship Day close to their hearts.
Online flower delivery is the best choice for a final search for a flower gift in Bangalore. Black Tulip Flowers Bangalore helps to send online flowery delivery anywhere in India and across the world.
Lily
Lilies are adaptable, handy and classic and come in a variety of colours. It is a symbol of positive energy, passion and purity. Lilies should be given as a flower gift on this Friendship Day, to someone you truly love and care and consider to be your true friend.
Treasured Pink Lilies
Astounding Lilies
Wonderful Lilies
Royal Black
Different colours of lilies represent a variety of meanings and symbolisms across the world in different beliefs. You can check our variety of Lily flower collections from our website Black Tulip Flowers Bangalore and send the perfect Friendship Day flower gift to your true friend, make this Friendship Day more memorable.
Friends are one of the most significant things in every person's life, they will always support you and care you, and they are the ones with whom you will share all your happiness and sadness. Having a best friend means you can talk with him or her about many things and can have long chats, send a flower gift to your friends, which they can keep close to their hearts forever.
Celebrate this Friendship Day with Black Tulip Flowers by sending stunning flower bouquets or arrangements to make them happier and you can also add cakes, chocolates and plants along with your flower gift to make them even happier.
Choose same day online flower delivery in Bangalore with Black Tulip Flowers helps you sending flower gifts to your friend has now become more convenient and easier than ever.
Make your order with Black Tulip Flowers and cherish all the beautiful moments in this Friendship Day and surely there is no way to surprise your bestie other than a fabulous bunch of attractive flowers.