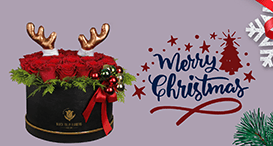 Christmas Flower Arrangements Bringing Festive Joy to Your Home DEC -25
Christmas Flower Arrangement: Bringing Festive Joy to Your Home

The holiday season is upon us, and there's no better way to infuse your home with the spirit of Christmas than through beautiful flower arrangements. Christmas flower arrangements not only add a touch of natural elegance to your décor but also spread joy and warmth throughout your living spaces. In this blog, we'll explore the art of creating stunning Christmas flower arrangements that will leave your home looking and feeling festive.
Choosing the Right Flowers:
The first step in creating a memorable Christmas flower arrangement is choosing the right flowers. Traditional choices like poinsettias, amaryllis, and red and white roses are classic options that capture the holiday spirit. Consider including evergreen elements like pine branches, holly, and mistletoe for a truly Christmassy touch.
Color Palette:
When selecting flowers for your Christmas arrangement, focus on a color palette that reflects the season. Red, green, and white are the primary colors of Christmas, but don't be afraid to add some gold or silver accents for a touch of elegance. Complementary colors like deep burgundy and rich emerald green can also enhance the arrangement.
Container Selection:
The choice of container is a crucial aspect of your Christmas flower arrangement. Consider using vintage-style vases, mason jars, or even festive holiday-themed containers. The container should complement the overall theme and color scheme you've chosen.
The Art of Balance:
Creating a visually appealing arrangement involves achieving balance in your design. Start with a focal point, typically the largest or most eye-catching flower, and then build the arrangement around it. Ensure that the arrangement is symmetrical or asymmetrical as per your preference and the available space.
Add Fragrant Elements:
Christmas isn't just about the visual appeal; it's also about the delightful scents that fill the air. Incorporate fragrant elements like cinnamon sticks, cloves, or scented candles in your arrangement to create a sensory experience that guests will love.
Decorative Accents:
To make your Christmas flower arrangement stand out, consider adding decorative accents such as ornaments, ribbons, or small twinkling lights. These extra touches can turn a simple arrangement into a festive masterpiece.
Caring for Your Arrangement:
Once your Christmas flower arrangement is complete, it's essential to care for it properly to ensure it lasts throughout the holiday season. Keep the water fresh, trim the stems regularly, and display the arrangement away from direct sunlight and drafts.
Conclusion:
Christmas flower arrangements are a wonderful way to bring the holiday spirit into your home. With the right choice of flowers, color palette, container, and decorative accents, you can create a stunning centerpiece that captures the essence of Christmas. Whether you're decorating your dining table, mantel, or front entrance, a well-crafted Christmas flower arrangement will add warmth, charm, and beauty to your festive celebrations. So, get creative, have fun, and let your holiday spirit bloom with a dazzling Christmas flower arrangement.
The most awaited festival of the year, Christmas is here! Planning for a great decoration this Christmas season?  Flowers are the best choice for Christmas Decorations.
With Black Tulip Flowers, the best Christmas flower gift delivery in Bangalore, Flowers make the best decoration anywhere.
Let's have a glance at the best Christmas Flowers for decoration.
Popular Christmas Flowers
Poinsettia
Poinsettia, also known as Christmas flowers, was named after the former US ambassador to Mexico, Dr. Joel R. Poinsett who introduced the Poinsettia to the United States.
The perfect Christmas plant with origin from Mexico, Poinsettia is used in most Christmas decorations. Poinsettia is symbolized for purity and the best gift for Christmas Eve.
The bright petals of Poinsettia look like flowers and play a major role in decorating the home for the festival.
Holly
Holly is widely used as ornamental plants. Think of Christmas, Holly comes to mind first.
It is a flower that means protection and defense. The leaves and the berries are the main attraction.
Holly flower is usually white in color, but sometimes has a greenish tinge to it. Holly flowers are also called Christmas Holly or English Holly.
Lilies
Lilies symbolize hope, faith, purity, and beauty. Lilly flowers come from bulbs
These come in different colors and are most sorted for bouquets.
Lilies come in a wide range of colors including whites, yellows, oranges, pinks, reds, and purples.
These are the best choice to send Christmas Flower Arrangements
Amaryllis
Each bulb of the plant produces one or two leafless stems each of which bears a cluster of two to twelve funnel-shaped flowers at their tops
The usual color is white with crimson veins, but pink or purple also occur naturally.
This winter-flowering bulbous houseplant, perfect for a Christmas gift or a Christmas decoration
Christmas Rose
Helleborusniger, commonly called Christmas rose is a winter-blooming evergreen perennial
Native to the mountains of Southern & Central Europe, Christmas Rose opens during Christmas time in winter areas.
It is a perfect cut flower for Christmas decoration.
Black Tulip Flowers have the following best Christmas flower gifts for Bangalore or India:
Christmas Special Gift
Perfect Christmas Centerpiece
Luxury Christmas Special
Bunch of Rose & Alstroemeria in Santa Claus Socks
Christmas Present – Mini Snowman
Merry Christmas Gift Box
Christmas Present – Tree Shaped
All the flowers, flower arrangements, and bouquets from Black Tulip flowers can be specialized with a gift of your choice like balloons, cakes, chocolates, etc to make it more special.
Black Tulip Flowers, one of the best online florists in UAE, it is easy to send Christmas Flowers to UAE.
Spread the festive mood to your friends and loved ones with our beautiful and adorable gifts!
Black Tulip Flowers wishes its valuable clients and customers a Merry Christmas.