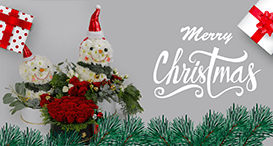 The mere sight of flowers makes everyone happy and bring a smile on their face. So, what else than flower be a great gift idea to your loved and dear ones this festive season?
Best Christmas Gift
Flowers are used in different ways like-decorations, flower arrangements, gifts, bouquets to express love, show your gratitude to someone, and more.
They bring out the happiness in you with a bright smile on your face. Flowers are the only gift that brings happiness to both the sender and the receiver.
Black Tulip Flowers, arrange for same-day flower delivery in India with their best delivery system across India.
Send Christmas flower gift delivery in Bangalore, with Black Tulip Flowers to anywhere in India which will be a best gift for your loved one this festive season.
Christmas Flowers
Christmas is celebrated as a festival season not only by Christians but by most others around the world.
There are many flowers that are used for flower arrangements and decorations during this season but some specific flowers are used this festive season to express love and stand as a best gift.
Gift Ideas for Christmas
Here are best ideas with flowers from Black Tulip Flowers for you this festive season:
A Christmas Special Gift
A standard size gift consists of 10 spray roses, 1 stem cymbidium orchids, 10 hypericum, medium size black box with a message card. It comes in deluxe size also.
Noble fir fresh Christmas tree with decoration
These come in Standard and Premium sizes
A standard size consists of 5 to 6 feet fresh Christmas tree with decoration and free delivery, free stand & free installation
Holiday Box of Flowers
As Christmas falls in the holiday season, this box of flowers will be the best gift for your dear ones.
A standard size will have a small box of roses with decoration related to Christmas.
Christmas Present – Tree Shaped
This is a bunch of flowers arranged in a Christmas tree shape with festive decorations, which will be a best gift for this festive season.
Red Roses In A Box – Reindeer Theme
A standard size gift consists of 25-30 stems of red roses in a black box.
This even comes in deluxe size with 35-40 stems of red roses in a black box.
Also below are the most sorted and best gifts from Black Tulip Flowers to be sent as Christmas Flower decorations in India this festive season.
Bunch of Rose & Alstroemeria in Snowman Socks
Christmas Present – Mini Snowman
Merry Christmas Gift Box
All the flowers for your loved ones can be made more special by adding a gift of your choice like balloons, cakes, chocolates etc.
With Black Tulip Flowers to help you with your need to send a best Christmas Gift for your friends and family, it is easy to send Christmas Flowers to India.
Spread the festive mood to your friends and loved ones with our beautiful and adorable gifts!
Black Tulip Flowers wishes its valuable clients and customers a Merry Christmas.