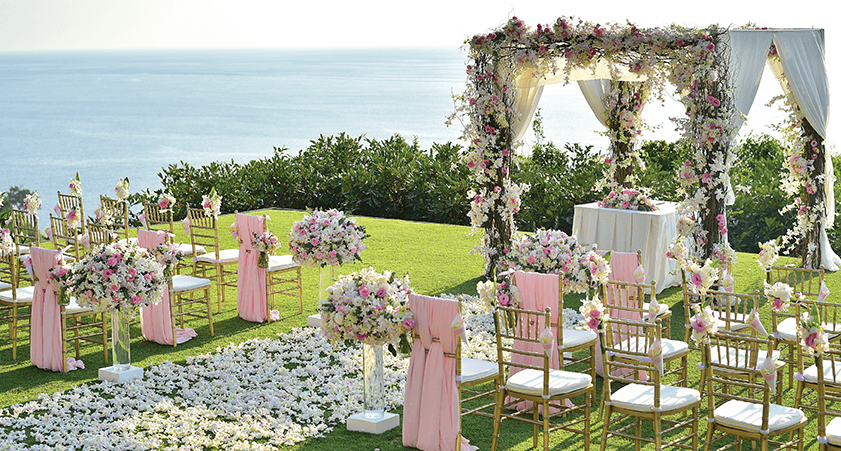 Unique Wedding Decoration for that WoW factor & the trends In Wedding Decor Planning For 2020
Unique Wedding Decorations for that WoW factor & the trends In Wedding Décor Planning For 2020Weddings in the modern era are seen as a one-time event in the life which should always be memorable with delight and bloom one's mind.
Nowadays, the wedding couple plans their wedding as a grand event and take great care in arranging everything perfectly. The most concentrated is the wedding decorations and the couple start planning very early before the wedding flower decorations and wedding flowers are the most important part.
Colour theme decors
The wedding decorations can be planned with colour themes starting from the couple's attire, stage, flowers, dining arrangements, stage backdrops etc.
At Black Tulip flowers, with our dynamic design team and with around 29 years of experience as florists and as one of the leading wedding flowers & event decorators in Bangalore, can make your wedding a grand unforgettable event and make your family and guests say "WoW".
Flower Decorations
Before you plan for your wedding decoration, plan your colour theme and select the flowers that suit your theme. Feel free to discuss with your florist the best available flowers and the colours during your wedding time, who can suggest you the best and the most trending flowers and colours.
Stage Decorations
Images speak more than words, so just sketch your ideas for the wedding stage decoration so that our inhouse design team can make it real and to be unique.
At Black Tulip flowers, we suggest our customers with the colours and the flowers that are currently trending which can make their wedding decorations bloom in everyone's mind and to look stunning and amazing in the wedding photos.
Get more information at – https://www.blacktulipflowers.in/, the wedding florist in Bangalore, to know about bridal flowers in Bangalore & wedding flowers in Bangalore to choose the best bridal & wedding flowers and wedding florist.
Wedding Florist
Black Tulip Flowers, delivering flowers since 1990, can make your wedding decorations a great success with our wedding stage decoration in Bangalore
Plan your wedding decorations quite ahead of the wedding and visit your florist and wedding decorator often to make the wedding plans a grand success to be cherished a lifetime.
Wedding Flowers & flower arrangements
Among the popular flowers, the most sorted wedding flowers this season are:
Stephanotis
Ranunculus
Roses
Baby's breath
Pink Hydrangeas
Tulips
Succulents
Dahlia
Daisies
Carnations
Orchids, and more
Visit us online for wedding flower decorations and stage decorations to get a clear idea and choose the best
Floral design
Centrepieces
Wedding flower arrangement
Wedding flowers for your special occasion.
Black Tulip Flowers, one of the best online florists in the Middle East, Malaysia, India and worldwide with our office situated in the heart of Bangalore guarantees the best floral & stage arrangements, wedding decorations for your very special day.
See our products online at https://www.blacktulipflowers.in/wedding-flowers.html for variety of flower arrangements on your special day to enhance the beauty.
Tips for Bridal Bouquets
Here are some useful tips for your bridal bouquets:
Bouquets finished off with silk ribbon with pretty bows tied around roses and fluffy peonies are the great and beautiful choice.
Choose your wedding attire before you choose your bouquet
Try to make your bridal bouquets personal by selecting flowers which might describe you
Black Tulip Flowers, the best choice for Bridal Bouquet in Bangalore, has a variety of bouquets to choose from according to your colour and flowers.
Bouquet of Ping Pong (Yellow & Purple)
Loving Peach Rose Bouquet
Bunch of Blue Orchids
Bouquet of Beautiful Blooms
Bouquets of Peach/Pink/Purple/Deep Purple Roses and more
Luxury Flower Collection
Select from our luxury flower collections to give a luxurious touch to your wedding
Luxury Red & Gold Roses
Loving Heart Bouquet
Bunch of mix flowers with Pink Hydrangeas
And much more
Contact us for your wedding decorations in Bangalore now and feel pride at your wedding.
Use our wedding decoration services to get the WoW factor from the guests.
Planning to save big on wedding decorations in Bangalore, don't wait, visit us online at https://www.blacktulipflowers.in/