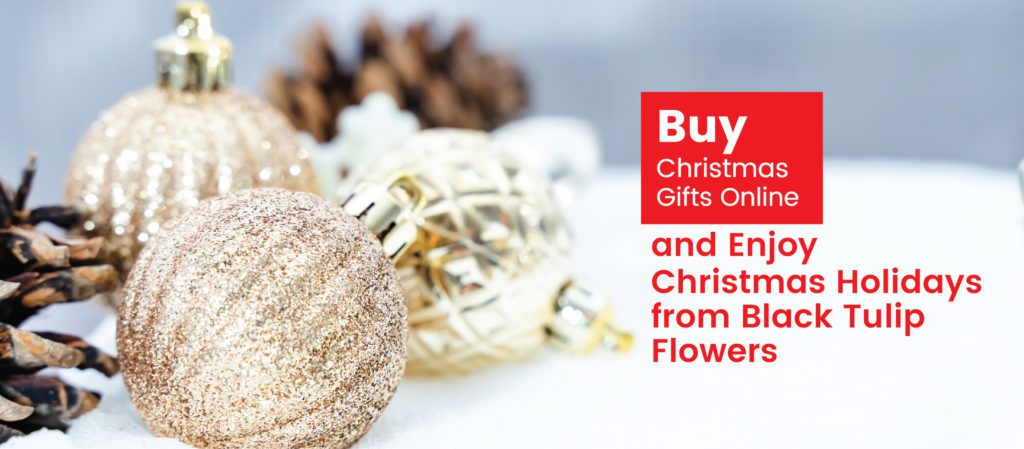 Buy Christmas Gifts Online and Enjoy Christmas Holidays from Black Tulip Flowers

The Ultimate Guide to Buy Christmas Gifts Online This season to be jolly and to find the perfect Christmas gifts for your loved ones. In today's digital age, the convenience of online shopping has made gift hunting easier and more enjoyable than ever. No more battling the holiday rush or searching through crowded stores; instead, you can comfortably browse and select the ideal presents from the comfort of your own home. In this comprehensive guide, we'll walk you through the art of buying Christmas gifts online, helping you find the perfect presents for everyone on your list.
Start Early
The key to successful online Christmas shopping is to start early. Don't wait until the last minute, as shipping times can vary, and popular items may run out of stock. By beginning your search in advance, you'll have more options and can avoid any last-minute stress.
Make a List
Before diving into the vast world of online shopping, create a list of the people you need to buy gifts for. Include some gift ideas or preferences for each person, such as their hobbies, interests, and favorite colors. This will help you stay organized and focused while browsing.
Set a Budget
Christmas can be an expensive time of year, so it's essential to set a budget for your gift shopping. Knowing your spending limit will help you narrow down your choices and prevent overspending.
Research Online Stores
There are countless online stores to choose from, so take some time to research reputable retailers. Read customer reviews and check for security features to ensure a safe shopping experience. Popular online marketplaces like Amazon, Etsy, and eBay are great places to start.
Utilize Wish Lists
Many online retailers offer the option to create wish lists. If you're unsure what your loved ones want, ask them to create a wish list on their favorite online store, or you can create one for them. This way, you'll have a clear idea of their preferences and can make your selections accordingly.
Personalize Your Gifts
One of the advantages of shopping online is the ability to personalize your gifts. Many retailers offer customized items, such as monogrammed blankets, engraved jewelry, or even personalized photo books. Personalized gifts show that you've put thought into your presents, making them extra special.
Consider Gift Cards
If you're unsure about someone's preferences, a gift card to their favorite store or restaurant can be a thoughtful choice. It allows them to pick out something they truly desire.
Check Shipping Details
Pay close attention to shipping details, such as delivery times and costs. Some online stores offer free or expedited shipping during the holiday season, while others may have specific cutoff dates for guaranteed Christmas delivery. Be sure to review return policies as well, just in case a gift doesn't meet expectations.
Keep Security in Mind
When shopping online, it's crucial to prioritize your online security. Ensure that the websites you're using are secure and trustworthy. Use strong, unique passwords for your accounts, and be cautious about sharing personal information.
Wrap with Love
Many online retailers offer gift-wrapping services. Taking advantage of this can save you time and make your gifts even more beautiful when they arrive. If you enjoy wrapping gifts yourself, consider ordering festive wrapping paper and supplies online.
Conclusion:
Online Christmas shopping has revolutionized the way we find and purchase gifts for our loved ones during the holiday season. With a bit of planning and creativity, you can make the online shopping experience just as special as traditional in-store shopping. This year, embrace the convenience and variety that online shopping offers to find the perfect Christmas presents, all while staying safe and cozy at home. Happy holiday shopping!
Our Flower delivery in India makes your Christmas celebrations fantabulous!
You can choose any flowers available in the market; the important thing is that you're showing your loved ones how much you care. So why wait? Start browsing our selection of Christmas flower gifts today and find the perfect gift for your loved ones. With Black Tulip Flowers, it's easy to buy Christmas gifts online and deliver them to your beloved one's place. Surprise and delight your loved ones with a beautiful and thoughtful gift this holiday season.
Whether you choose a flower gift for your loved one or want to add decor to your home, Black Tulip flowers have a wide selection of flowers to make the festive season memorable. Each gift of fresh blooms and foliage suits individual needs, from adding a special message to delivering a personal note. So, to make your Christmas memorable and show you care, why not treat your loved one to one of the beautiful Christmas flower gifts available from Black Tulip Flowers? Order flower gifts from Black Tulip Flowers and cheer up your festival, creating memories to relish forever!